Slack is taking the corporate world by storm. More and more companies are using this communication tool – now, you can do pretty much everything in Slack.
Slack has a treasure of bots and apps, and integrations, that can be used to make daily efforts in the workplace easier.
Instead of you searching through Slack's app directory and experimenting with app after app, we've done the hard work for you. In this guide, you'll find some best slack apps and bots:
Essential Slack Apps
Here are some essential Slack apps that you should install right now. We believe these apps will help you and your teams.
1. Google Drive
Use Google Drive within Slack to create new Google Docs, Slides, Sheets files, import an existing file from Google Drive into a channel or direct message and search directly within Google Drive files shared within Slack.
2. Google Hangouts
Google Hangouts lets you communicate with your team via instant messaging, voice calls, and video calls. This integration allows you to easily start a Hangout with the members of a channel. To start a Hangout, enter /hangout in any channel.
3. Asana
Asana is the easiest way for teams to coordinate and manage their work. With Asana for Slack, you can turn your conversations into action and create new tasks in Asana—all without leaving Slack.
4. Mailchimp
Mailchimp and Slack integration will allow you to receive updates when people subscribe and unsubscribe from your audience and see the sent status of a campaign.
5. Google Calendar
From automatically updating your Slack status to getting up-to-the-minute reminders, keep your calendar top of mind without leaving Slack. Respond to invites, get a heads up before meetings start, and automatically set your status to show when you're busy.
6. Trello
Link your Trello and Slack teams to harness the power of productivity with the Trello app for Slack, and create a seamless and collaborative workflow between your favorite apps. Add new Trello cards to boards directly from Slack without needing to hop through the app-switching hoop.
7. Slack for Gmail
Send emails into Slack to discuss them with your teammates. The Slack Add-On for Gmail helps you move conversations along by bringing context from an email into a Slack channel or direct message. You can add a message and include attachments along with the email as well.
8. Zoom
Start Zoom Meetings and make Zoom Phone calls with flawless video, crystal clear audio, and instant screen sharing from any Slack channel, private group, or direct message using the /zoom slash command.
9. Google Analytics Insights
Customizable reports with your key data. Realtime alerting when your data changes. All in Slack. This app helps you to get sent your key metrics in daily & weekly reports so you can see how your sites are performing at a glance.
10. Canva
Instantly publish your designs to Slack and collaborate with your team real-time to increase productivity. Canva integrates with Slack so you can automatically send designs directly to your Slack channel(s).
11. Hubspot for Slack
With live chat, team email, and an easy-to-use chatbot builder, HubSpot gives you the messaging tools and context to have personalized conversations with prospects and customers at scale.
12. Dropbox
Connect to the Dropbox and Slack integration and begin to – Share Dropbox content to Slack channels or indirect messages, right from Dropbox, and see your Dropbox file previews right within your Slack conversations.
13. GitHub
Bring your code to the conversations you care about with the GitHub and Slack apps. With two of your most important workspaces connected, you'll get updates about what's happening on GitHub—without leaving Slack.
Use /github subscribe [owner/repo] in Slack to start receiving updates about that project.
Slack Apps to Build Team Culture and Increase Engagement
Here, you'll find Slack apps and tools to build an amazing team culture, increase engagement, and improve collaboration:
1. EngageWith
EngageWith is an employee recognition and rewards platform that enriches your company culture. It virtually brings recognition and fun to your Slack and MS Teams workspace. With EngageWith, everyone across your organization can publicly recognize everyone else by giving points that add up to valued rewards (employees can redeem their points).
Recommended Read:
EngageWith Complete Guide for HR Professionals
A Comprehensive Guide to Employee Recognition
2. Trivia
Trivia is the new way to connect with your remote team while playing exciting quizzes and remote games on Slack and Microsoft Teams! Get summarised results at the end of every Trivia quiz and find your very own Quizzard!
Recommended Read:
Trivia Complete Guide For HR Professionals
Play Trivia right inside Microsoft Teams
A Proven Guide to Team Building Activities [2022]
3. Billy Birthday
Billy Birthday is a Slack bot that automates birthday and work anniversary celebrations, making it easy to recognize and celebrate your team members. As a remote or hybrid team, it can be challenging to build team bonding. Celebrating birthdays is one of the simplest and quickest ways to increase employee recognition and foster a positive team culture.
With Billy, you'll never forget a teammate's birthday again, and you can add some fun to your everyday routine.
4. Moodbit
Are you looking to increase employee engagement? Have you ever dreamed of having a highly engaged and productive team? Moodbit is definitely the right app for your team.
Moodbit is an app for everyone in the company: managers, employees, executives, and more. Moodbit helps to provide a clear understanding of what is going on in the workplace.
5. Neko by Culture Amp
Neko makes employee feedback fast and frictionless. Across Engagement and Effectiveness surveys, as well as the Performance cycle process, expect Neko to pop up and deliver invitations, friendly reminders, and announcements.
6. Niles
Niles is a wiki bot that organizes your team's knowledge and answers common questions directly in Slack. What if he doesn't know the answer? No problem, Niles will suggest adding it to the knowledge base for future reference.
7. Lunch Train
Lunch Train makes planning lunch outings with your team simple and pleasant (and, dare we say, fun). Want sushi for lunch? Start a Lunch Train with a quick slash command, and your teammates can easily board the train and receive a reminder when it's time to depart.
8. GreetBot
It greets people. It sounds simple, but GreetBot is your onboarding assistant for Slack. In a few easy steps, it helps you make your colleagues, collaborators, customers, and community members feel welcome and informed when they join your workspace.
9. Slido
Slido brings to Slack an easy way to capture and address your team's most burning questions and ideas. Companies use Slido at their meetings to involve their employees in the conversation and keep everyone on the same page.
10. IdeaKeep
IdeaKeep helps your team collect and rank the best ideas and vote for ideas. It also finds and sorts the best ideas for company improvement. You can easily export your ideas to CSV.
11. Range
Range is a suite of coordination and culture tools that helps teams stay in sync and build the trust necessary to move fast. With Range, you can align high-level goals with daily tasks and activities so your whole team has insight into how projects are progressing.
12. Slab
Slab is a knowledge hub for the remote workplace. Slab helps distributed teams unlock their full potential through shared learning and documentation. It's a modern wiki with thoughtful UX, smart search, and integrations that help your team find answers faster.
13. Marlo
Get real-time meeting feedback with Marlo and finally end the culture of unproductive meetings. It calculates a Net Meeting Score™ by capturing anonymous micro-feedback after each meeting. You'll also get a glimpse of what everyone else thinks and what can be improved.
14. Timetastic
Timetastic is the #1 staff leave planner that makes working life just that little bit simpler. It's the easiest way to book time off work. By using the desktop or mobile apps it eliminates the need for paperwork, and keeps track of everything, instantly.
15. Carrot
Slack teams use Carrot to share important news, updates, and decisions nobody should miss. Slack teams use Carrot to share important news, updates, and decisions nobody should miss.
16. Leapsome
Leapsome is a next-generation performance management platform to engage your employees and create a strong culture. The platform covers continuous feedback and praise, agile goal and OKR management, check-in meetings, performance reviews, and people analytics.
17. Teamable
Accelerate your referral program by setting up the Teamable Slack app. Slack makes requesting introductions from your employees and extended network quick and easy. Get notifications from Teamable and respond to them directly from Slack.
18. Butterfly
Butterfly helps team managers improve their emotional leadership by keeping a trace of their team's happiness through open communication consistent, feedback loop and artificial intelligence.
19. Gif Keyboard
Want the perfect GIFs for any moment? Tenor GIFs in Slack allow you and your colleagues to find and share the perfect GIFs for any conversation. Simply create custom GIFs by adding a caption!
20. Meme Bot
Tired of copy-pasting memes from google searches? Use this Meme Bot with the /meme-list and /meme commands to generate instant memes from slack and be a meme hero.
21. Dog Facts
Add this app to your team's Slack and use the available slash command (A Slack slash command /dogfact) to retrieve a fun fact about dogs!
22. Weather Hippie
Weather Hippie is a fun and FREE weather app that allows you to stay ahead of extreme weather conditions in your area. It gives you real-time updates and alerts.
23. Booky
​Booky lets you quickly share books read with your team. by using /booky you can search for books and post their descriptions allowing you and your team to add them to your Goodreads shelves right there in Slack!
24. Good Today
​Good Today is the easiest way for teams to make giving apart of their company culture. Engage, educate, and empower your employees to have a say in where your company's charitable dollars go.
25. Yarn
Find video clips from your favorite movies, TV, and music videos. Enter a quote or lyric and Yarn automatically returns a short video clip that matches.
26. CoDo
CoDo for Slack is a social motivation tool to help persistent daily and weekly achievement by making group challenges, tracking, and celebrating the progress with colleagues.
27. Lunch Buddies
This app helps build relationships between teammates by scheduling participants into random groups for lunch. To initiate the process, invite the Lunch Buddies bot to any channel and say @Lunch Buddies create.
28. Snack
Snack is a 100% opt-in, distraction-free way for remote teams to have virtual coffee breaks. Distributed teams use Snack to build authentic relationships, promote collaboration and share knowledge within Slack.
29. ChatFox
Remote teams that only engage through projects, tasks, and deadlines do not foster a culture around shared values and goals. Use ChatFox to incentivize your team to have more meaningful conversations based on shared values.
30. Empuls Bot
Empuls is an employee engagement platform that helps businesses to reward and recognize
their people. From setting up surveys on Slack to tracking feedback and gathering eNPS scores, this tool has every feature to get a company's culture right. Empuls help HR leaders
build a culture of appreciation & gratitude in the organization, connect & align employees with a
social intranet, and reward good performance.
Slack Apps to Promote Healthy Habits
Here are some Slack apps that will help you in promoting healthy habits for your team.
1. Count It
Count.It hosts physical activity challenges for teams, and now you can bring all that action into your Slack @channels. Connect tracking apps/devices, get live notifications, check out the leaderboard, right from Slack.
2. Leaderboard
Track your office battles with Leaderboard App! Challenge your co-workers for a game of Mario Kart, Ping Pong, Table Football… And when you're finished playing, report your score. Ready? set, go! Climb the leaderboard today and be the office champion.
3. Health Hero
Health Hero makes it easy to get the whole workplace to log their #meal, #move and #mind in the way that works for them. Using text or images just tell the Health Hero bot about that healthy meal, that morning run or that bit of meditation this afternoon and it will track your progress.
4. Motivation
Receive motivational reminders directly in Slack. Whether you're going through hard times, need an extra push to get stuff done, or like sharing inspirational quotes with your team, Motivation has you covered.
5. WFH Surveys
Taking feedback from your remote employees has never been this simple and effortless. Just a simple addition to your Slack app and you're ready to sail. WFH Surveys helps you take anonymous feedback form from your remote employees via AI-enabled interactive chat.
6. Good Job
Good Job's happiness tracker gives you the data you need to be happier at work. Track your workplace experience daily, to identify trends in what makes you happy and what causes you stress at work.
7. Gratitudely
Gratitudely is a simple, fresh way for your Slack team to keep a shared gratitude journal – a "gratitude wall". Improve team well-being (boost morale, reduce stress, and more!) by keeping a shared gratitude journal.
8. Platterz
Integrating your Platterz account with Slack makes it effortless to keep your team updated and engaged with your culture programs. The Platterz app will automatically engage each employee with reminders of upcoming meals, and requests for ratings and preferences.
9. Gyroscope
Sitting in an office can be very unhealthy and cause people to have low steps each day. Gyroscope helps to fix this by building software to track your life, encourage workouts and make improvements to your health.
10. Icliniq
The Icliniq slack app is an extension of Icliniq, a leading online telehealth consulting portal for Slack Teams. For any team to use Icliniq, the admin has to authorize the app for their respective teams.
11. &frankly
The &frankly bot notifies users about open questions they have to answer, and pushes the results to users, groups, and the company in order to quickly see what is going on in the company and what you can improve.
12. blankit health
With blankitbot for Slack, your employees can ask questions about their coverage and get an immediate reply. Blankitbot for Slack responds to simple phrases like "Do I have coverage for a root canal?" and "Can I include my spouse on the plan?" There's no need to learn new commands to chat with blankitbot.
13. Kiki
In these extraordinary times, we're all adapting to new ways of working. Kiki is here to help! Kiki helps teams perform regular check-ins and easily share responses. It's 100% free-to-use, and quick to get started.
14. Joyride
Getting to know people on your team just got a lot easier. Joyride uses icebreakers and fun questions to keep the laughs coming. Team engagement skyrockets. When you add to Slack, a channel called #theride is created and your team is invited in.
15. enso
meet enso – the first slack bot whose notifications will reduce stress, instead of causing it. Every once in a while he will remind you to pause and breathe. That's all. And as simple as it may sound, it will turn out to be transformative in practice.
Slack Apps and Integrations for Customer Support Teams
We noticed that Slack offers a wide array of different integrations and apps to grow the platform into a complete customer support powerhouse.
1. Typeform
Create beautiful forms, surveys, and quizzes. Then send the results straight to Slack. Notify channels or direct messages with real-time responses—and have the right person to react in an instant. You can even collect responses to your Typeforms directly in Slack.
2. Freshdesk
With the Freshdesk for Slack, you can create and update tickets from Slack messages. You can also add private notes and even reply to customers, without having to switch tabs or open up Freshdesk.
3. Smallchat
Start conversations with visitors on your website through Smallchat and convert those visitors into customers. All from inside Slack. Each conversation creates a new thread, allowing your team to manage it all from one place.
4. Front
Front is the inbox for teams that gives you access to the people, messages, and apps you need to get work done. Automatically send messages from Front to Slack using escalation rules to handle them directly from Slack.
5. Guru
The Guru Slack integration allows you to capture knowledge as its being exchanged in Slack. This new content is then automatically consolidated with the rest of your collective knowledge, making it reusable and easy to search in Guru's browser extension in any web-based app.
6. Crisp
With the Crisp for Slack integration, you get access to the beautiful Crisp chatbox (that you install on your website in 1 minute, with a single line of JavaScript). Then, your visitors can chat with you.
7. Groove
The Groove integration will send notifications of incoming tickets (and a variety of other notification preferences) right into your Slack team's own Groove Channel. Collaborate with your team in real-time about customer questions without even leaving your chat room.
8. CloudApp
CloudApp can instantly share the content you've created directly into your Slack channel of choice, instantly. No searching around on your desktop for a screenshot/video or waiting to upload.
9. Hugo
Day-to-day, people use Hugo to collaborate on agendas and meeting notes in real-time. Hugo is connected meeting notes software. Your meeting notes are connected with the people and tools in your organization.
10. Freshconnect
By integrating Freshconnect and Slack, your support and sales teams become less distracted and more productive. This integration will allow you to get real-time updates on all the ticket and deal discussions you're a part of, as a DM right within Slack.
11. Delighted
Delighted is the fastest and easiest way to gather actionable feedback from your customers, and with Slack integration, you can ensure everyone on your team sees feedback from customers as it happens. Your Delighted feedback can be sent to any of your Slack channels.
12. Burner
Connect a phone number to any channel in Slack, allowing incoming text messages to the team & enabling anyone in the channel to respond or to watch text threads. Burner's Slack Connection supports inbound texts and photo messages, outbound replies from Slack, and voicemails.
13. SharedBox
SharedBox brings your support inbox to Slack. It allows team members to collaborate and respond to emails directly on Slack without the need for another dedicated interface to collaborate on emails. SharedBox connects to your existing support email.
14. Ottspott
Redirect call data to a specific channel and choose which of your co-workers handles the calls – for either local or toll-free numbers. You will receive and pass calls via Slack and see all your notifications in your dedicated channel (incoming, outgoing, or missed calls).
15. Clearbit
The Clearbit Slack integration transforms each new email signup into a complete user profile, enriching your customer understanding, and delivering that data directly to Slack where your team can take action.
16. Zoho CRM
Slack is a great way to collaborate with your team! Now with Zoho CRM's integration with Slack, you can share crucial information like lead details or reports easily with your team members, and increase team collaboration and productivity.
Slack Apps for Dev Teams
Here, you'll find some amazing Slack apps for Dev teams. Check them out, and consider implementing the ones that make sense for your team.
1. Sentry
Sentry sends notifications to your Slack channels for the alerts and workflow updates you define. Take immediate action by assigning, resolving, or ignoring the error link. Assign new issues to any user in your org.
2. Stack Overflow for Teams
Search for answers to your team's questions in Slack, start new questions directly from Slack, and stay up to date with customized notifications pushed directly to your Slack channel. Use /stack search [search term] to search for questions or answers from your team.
3. Bitbucket Cloud
With the Bitbucket Cloud bot for Slack, your team can get contextual information about your code repositories and take action without leaving your channel. Send friendly nudges to teammates about missing approvals on pull requests.
4. Zeplin
Zeplin is a collaboration app for designers and engineers that helps ease the handoff process by generating style guides, specs, and assets automatically. This integration allows your team to receive updates in a Slack channel.
5. ClickUp
ClickUp is a beautiful productivity platform that allows you to get more done in your work and personal lives. Create tasks and comments from messages! Click the "more actions" option besides a message to select the ClickUp Assistant options.
6. Integromat
With Integromat you can connect Slack to your favorite apps, services, or devices. You will no longer need to repeat the same tasks again and again. You just create a scenario that will watch for new data being created in a specified app, and it will automatically trigger actions in one or more other apps.
7. Bugsnag
Bugsnag is a cross-platform error-monitoring system that detects and helps you diagnose crashes in your applications. This integration gives your team the ability to be notified in a Slack channel for errors that are reported to Bugsnag.
8. Moqups
Moqups helps your team – streamline workflow, clarify requirements, and get just-in-time validation. With Moqups for Slack, your team can easily monitor progress on Moqups projects directly from Slack channels. you can easily add a Webhook that pushes Moqups notifications directly to any Slack channel.
9. OpsGenie
OpsGenie is an alerting and on-call management solution for development and operations teams providing the tools needed to design actionable alerts, manage on-call schedules and escalations, and ensure the right people are notified of IT incidents at the right time, using multiple notification methods.
10. Workbot
Bring the power of your apps into Slack. Eliminate the app hopping and get actual work done across all your teams and the apps they use. Workbot helps you connect people, bots, and tools in an automated and transparent workflow.
11. Backlog
Backlog provides everything you need for an effective development workflow, including project management, bug tracking, task management, and version control. With Backlog's Slack integration, your team can get real-time updates on Backlog issues right in Slack.
12. Heroku ChatOps
With Heroku ChatOps you can deploy and promote code, and get CI test and pull request statuses directly within Slack. You and your team can stay on top of your Heroku app's status without having to jump to another site.
13. Janis
Janis makes it easier for teams to train their bots, fix problems fast, and retain their users in the process, all from the comfort of Slack. Connect industry-leading AI and your Messenger, or Slack bots to Janis in seconds.
14. Uptime Bot
UptimeBot is a simple website monitoring tool that notifies you in case of downtime or slow performance of your websites. Get instant downtime alerts delivered to your developer team chat space.
15. Slab
Slab is a modern wiki with thoughtful UX, smart search, and integrations that helps your team find answers faster. Create and search across your Slab posts, without leaving Slack.
Create new posts with /slab create [name]. Search across posts with /slab search [query], and share a result to the channel.
Slack Apps for Marketing Teams
Slack apps allow you to spend less time hunting down information and more time working on your campaigns.
1. Mailchimp for Slack
Mailchimp for Slack will allow you to receive updates when people subscribe and unsubscribe from your audience and see the sent status of a campaign. After authenticating your Mailchimp account, you'll be able to pick and choose which audience and notifications to monitor.
2. Statsbot
Statsbot is an entirely new approach to data analytics using Slack. Connect your database or Google Analytics to Statsbot in one click and easily track metrics, build funnels and cohorts even if you don't know SQL. You can share your data insights with the whole team, partners or investors.
3. Reviewflowz
Reviewflowz is a review monitoring Slack bot that brings your reviews from 20+ platforms into any favorite Slack channel. They support most of the B2B review platforms, and the app stores.
It's a great way to bring your customers' voices in the middle of everyday operational conversations, and keep your team aligned and focused on customers' interests.
4. Smallchat
Start conversations with visitors on your website through Smallchat and convert those visitors into customers. All from inside Slack. Send messages, share screenshots, and turn visitors into buyers.
5. Chatlio
Chatlio lets you talk to your website visitors and users directly from Slack. Visitors to your site can instantly chat with you about pre-sales questions, support issues, etc. while you and your team respond directly from Slack without any additional tools to install or use.
6. Reveal
Reveal is a Facebook Ads automation and marketing data reporting tool that alerts you about the most important changes right in your team's Slack. Reveal connects to: Facebook Ads, Facebook Insights, Twitter, Google AdWords, YouTube.
7. Yala
Auto-schedule social posts with AI. Publish to multiple social networks when your followers are online, getting remarkably better exposure and engagement. Being on Slack, Yala is always ready to capture interesting articles and insights shared by you and your team
8. Brand24
Brand24 helps you to get access to online mentions about your brand or product directly from Slack so that you don't miss anything. Hook up your project to Slack to make teamwork easier and more effective.
9. Databox
Databox for Slack helps to make sure your most important metrics are always at your fingertips. You and your team will be able to view your data in context, right where the conversation is already happening.
10. Coment
With Coment, you can comment, review and approve all your favorite documents directly on Slack. Comment with your team, in one click, directly on the document Access directly who reviewed and approved your documents.
11. Delighted
Delighted is the fastest and easiest way to gather actionable feedback from your customers, and with their Slack integration, you can ensure everyone on your team sees feedback from customers as it happens. Your Delighted feedback can be sent to any of your Slack channels.
12. Leadfeeder
Leadfeeder's Slack integration allows you to seamlessly send information about companies identified in Leadfeeder to your company's Slack. You can be alerted to Slack channel of your choice when a company that matches certain criteria visits your site.
13. CallRail
The CallRail app for Slack is a powerful new tool that makes monitoring and adjusting your call and form tracking more convenient than ever. CallRail's Slack integration makes it easy to keep up with your call tracking—you can even respond to texts directly from Slack.
14. PDFfiller
Collaborate on completing and signing documents with team members using Slack messenger. Track your team's activity on shared documents with instant notifications in Slack. Keep up with document turnaround by accessing, filling out, and signing documents from within Slack.
15. Buzzsumo
You can connect your Slack account to BuzzSumo in order to receive real-time messages for new mentions. You'll be given the option to pick a channel to have new mentions sent to.
16. Rebrandly
Link your Rebrandly and Slack teams to brand and shorten URLs directly within Slack, creating a seamless workflow for branding links, saving your team valuable time and increasing productivity.
17. Markup Hero
Markup Hero is a free screenshot and file annotation tool that helps you communicate ideas more clearly. Their Slack integration enables users to instantly annotate any image or PDF directly from Slack with one click. You can also paste share links in Slack to see a preview of your markup and save annotations to your history for later editing.
Slack Apps and Bots to Get Latest Trends and News
Want to get industry news, trends, and breaking news directly into Slack channels? Here, you'll find some Slack apps and bots that can help you!
1. Pocket
Pocket for Slack helps you capture and save all of the interesting articles, links, and videos your teammates share in Slack throughout the day—right to Pocket. Quickly discover new stories you'll love with personalized recommendations hand-picked by Pocket and the people you follow.
2. Nuzzel
Receive customized daily news briefings on any topic in any Slack channel. Nuzzel can help you be the first to know your industry's trending news, get customizable industry insights, give your team an edge, and help your team easily share the latest industry updates.
3. Linkboard
See news about your clients, competitors, and industry from all platforms in Slack. Linkboard lets you save and optimize frequent searches into folders for quick access to your news. Move quickly through your filtered news and save only the news you need.
4. Dataminr
The Dataminr Slack integration delivers customized breaking news alerts into a dedicated Slack channel, allowing journalists and media professionals to collaborate seamlessly across the newsroom.
5. Radio Buddy
Listen to your favorite radio stations on The Radio Hub and ask what music they are playing right now, simply by asking the Radio Buddy for help.
6. StandupIy-News
Get Top 5 news from ProductHunt, HackerNews & TechCrunch in your Slack on schedule or by request. Use /request command to get top news in Slack.
7. Newslit
Receive customized daily news briefings on any topic in any Slack channel. Newslit continuously tracks the most comprehensive set of important news sources, and integrates social signals from thousands of top business influencers.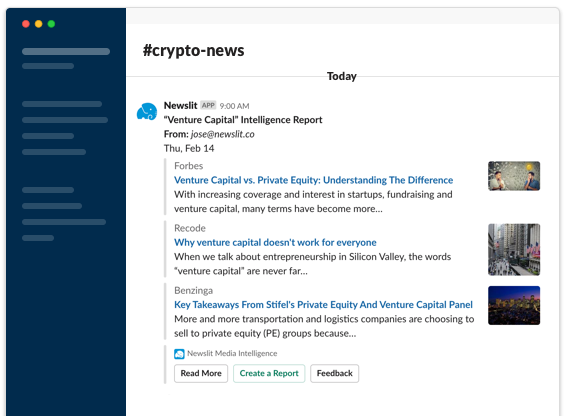 8. Curated
Curated is the simplest tool for building and sending email newsletters. With Curated for Slack action, you can collect links for your newsletter from Slack messages. You can save links from Slack messages directly to your Collected Items in your Curated account.
9. Syften
Syften constantly monitors social news sites and notifies you as soon as one of your keywords is mentioned. Small and mid-sized companies use it to grow their online presence, either with content marketing or great user support.
10. Qualiabot
Qualiabot is the digital assistant to analyze millions of information sources around the world such as news, blogs and social media, and notify you when it identifies an event of special importance that concerns your topics of interest.
11. Hubspot Blogs
Hubspot Slack integration sends you weekly post selections from the HubSpot Marketing and Sales Blogs, hand-picked by our editors. It also lets you search our archives for articles and resources on specific topics.
12. Incites
Connect Incites to Slack and receive instant notifications in your chosen Slack #channel for AI-powered deep insights from Incites. Collaborate with the right people and discuss with them what Incites brought to the table.
Slack Apps and Tools to Create a Productive Workspace
We've listed some of the best Slack apps to boost productivity for your team.
1. Zonka Feedback
Make feedback collecting effortless with Zonka Feedback's Slack Survey integration. Send surveys to your users and channels right within Slack, and keep your team notified at the right time. What all you can do with Zonka + Slack integration:
Send customized Surveys to Slack Users & Channels
View real-time Responses in Slack
Trigger custom alerts to channels and users in Slack
2. Arc
Arc helps teams stay on top of Google Analytics. Arc explains your analytics with short, easy-to-read messages that everyone understands. This keeps your team informed and enables everyone to make better customer decisions.
3. Teamline
Does it feel like your work is out of control? Teamline eliminates the need for clunky, time-consuming project management software. It gives everybody in your Slack team a complete view of tasks assigned to them, across many projects. You can track and assign tasks, directly from Slack.
4. Kyber
Kyber is the only all-in-one app you need to perfectly coordinate your teamwork and automate your workflows without leaving Slack. Within this Slack app, you can create and assign tasks, project task lists, and even schedule meetings.
5. Doodle Bot
Forget about juggling between calendars and chat services, jumping between tabs or resending invites – use Doodle Bot to create and manage meetings where you work. Type /doodle list to see all your meetings and participant replies.
6. Evernote
Take notes on the fly, clip your Slack conversations into Evernote, or find and share your notes in Slack channels. Now, you can bring all of your content together and keep the whole team focused.
7. @must-read
@must-read is a bot that will help your team collect important messages, announcements and links, and track who have read it. You can easily check who has read the message and who has not.
8. Flexbot
Think of flexbot as your wellness coach, yoga/meditation guru and mom all rolled into one awesome doggy bot! It will take care of your health throughout the day by stretching, breathing, and staying hydrated.
9. Any.do
Any.do Slack bot helps you manage your daily tasks in a conversational manner. You don't need to write any command. Just type in a question you have like "What are my tasks?" and this bot will guide you to make sure you're on track with work.
10. Quip
Add collaborative documents, spreadsheets, and checklists to Slack with Quip, the leading team productivity suite. Spark ideas in Slack and give them structure in Quip where you can organize, discuss, and evolve your team's most important work.
11. ClickUp
ClickUp is a beautiful productivity platform that allows you to get more done in your work and personal lives. Create tasks and comments from messages! Click the "more actions" option besides a message to select the ClickUp Assistant options.
12. Smartsheet
Smartsheet is the best way to plan, track, automate, and report on work, enabling you to move from idea to impact – fast. Take action on important requests from Smartsheet, without ever having to leave Slack, and give your teams new ways to automate repetitive processes and get more work done.
13. listMe
Keep lists of to-dos, discussion topics, or ideas with each person you chat within Slack. Simple and easy to use, listMe is the Slack app you've been waiting for.

Haven't found the Slack app you need? Make sure you check Slack App Directory out now and then to discover best Slack apps and bots that could ease your work.
What's Next:
50 Best Slack Apps for Remote Workers [2022 Updated]