Confession: You can find many of my Springworks teammates working remotely from home or anywhere.
I'm sitting here writing this article on my couch in my pyjamas while having my second cup of coffee. 🙂
Remote working is a growing trend in startups and big companies. Wondering why?
Here are some main reasons:
Setting your own working schedule.
The comfort of being at home.
Avoid commute time.
Less stress.
Spend time with your kids and family.
More satisfying.
What Are Remote Working Tools?
There are many benefits of working remotely, but it has its challenges as well, like managing your work, time management, communication between remote team members, etc.
Remote working tools will simplify the process of managing remote teams and keeping them productive, regardless of the location.
Remote working apps and software have a wide range of integrations with other tools, making it easy for team members to build a remote collaboration.
The Types of Tools Needed for Remote Teams?
To help decide which tools are right for your remote team, we've compiled a list of some of the best remote work tools for you to use:
Remote Workforce Project Management Tools
Tools for Work Management
Remote Team Collaboration Tools
Tools for Team Productivity and Reporting
Remote Team Building Tools
Tools for Time Management
Miscellaneous Tools
We shall look at the few best apps in each category to help you and your remote team collaborate efficiently.
Download The Remote Workers' Toolkit: 300+ resources and tools to help you work smarter. Get your free copy here now.
Top Remote Work Tools for Remote Teams
The following tools for remote teams are segmented by use case to help you determine what remote tools your team should use.
Let's get started:
Project Management/Task Management Tools
Trello is a project management tool that organizes your projects and tasks into boards. In one glance, It tells you what's being worked on, who's working on a specific task, and what's the status. Trello helps you to organize all your projects, tasks, and all of your team. It also integrates with Outlook and a few other email apps.

Read this guide to learn how to manage projects using Trello.
ProofHub is an all-in-one place for remote teams to work productively. Easily plan, collaborate, organize and deliver projects of all sizes on time, using one project planning software with all the right tools put in one place.
Assembla is a project management tool for remote teams and freelancers. It allows you to manage teams, codes, integration, reports and security features of the projects from a single platform.

Basecamp is one of the best project management tools for remote teams. It is used for project management, scheduling, meetings, assignment tracking, documentation and complete tracking from a single platform. Teams that switch to Basecamp are more productive and better organized.

Podio is a great way to organize and get work done. It provides the transparency and accountability needed for efficient teamwork by enabling people to organize and track tasks in one easy-to-use place.

6. SmartTask
SmartTask is an all-in-one project & task management platform built for teams of all sizes. It helps remote teams to automate workflows and streamline internal communication with ease. It has project management, task management, overtime tracking, team collaboration, advanced analytics, and reporting features. It also has a Sales CRM feature that makes it special and separates it from other project management tools.
Smartsheet is used broadly across organizations to track and manage diverse types of work for teams large and small, from enterprise companies to startups. Empower everyone to stay seamlessly connected with the platform that lets you achieve more — together.

Monday offers a new way to manage your projects and work. It helps teams plan together and execute projects that deliver results on time. Getting your team on board is as simple as sending an email. Getting them hooked is as simple as letting them use it.

Wrike is the perfect project management tool for big teams. It comes with features like Gantt charts, Workload View for resource management, Custom Dashboards, structuring via Folders, Projects, and tasks & auto-assignment based on task statuses.

MeisterTask is an online task management tool for teams. You can use MeisterTask to organize and manage tasks in a beautifully designed, customizable environment that adapts to their individual needs. Kanban-style project boards allow teams to create streamlined, automated workflows and get more done together.

11. nTaskmanager
From making checklists to managing projects, collaborating with project teams, scheduling meetings, sharing files, and more, nTask lets you do everything using just one tool.

Jira is built for every member of your software and development team to plan, track, and release great software.
Milanote is an easy-to-use tool to organize your ideas and projects into visual boards. Milanote boards can be a private place to think or a shared workspace for collaboration—you're in total control of who sees what.
Teamwork is a work and project management tool that helps in-house & remote teams improve collaboration, visibility, accountability, and ultimately results. It comes up with all the features you need to plan, collaborate on, and deliver your work.
Backlog is the all-in-one online project management tool for task management, version control, and bug tracking. Plan work, track progress, and release code updates right in Backlog. Backlog's simple yet powerful interface can be quickly adopted by anyone.
ClickUp allows you to put all of your work on one platform so you can collaborate and manage from anywhere. ClickUp offers task management, docs, reminders, goals, calendars, scheduling, and even an inbox. Visualize the progress of your projects remotely and easily adjust the timeline, so everyone knows what to work on next.
Pivotal Tracker is proven project management for successful teams. With a shared view of team priorities, a process that fosters collaboration, and dynamic tools to analyze progress, your team will deliver more frequently and consistently.
Clubhouse is a fast, uncluttered project management platform for Agile software teams to plan, build, and launch better products. Clubhouse is fast to load, incredibly quick to configure and navigate, all, so you have more time every day to create.
Whether you have wedding plans, organizing a camping trip or leading a work project. Working from home or at the office. Freedcamp is in the center of it all. It has the most user-friendly online experience for managing any type of Project.
Redbooth helps teams manage tasks and communication, so projects get completed faster and easier. Redbooth is simple and flexible to use, enabling project teams and departments at thousands of companies to get work done.
Toggl Plan gives teams a visual overview of who's doing what and what's coming up next. That means less stress and better results.
22. Hive
Hive is a powerful, intuitive project management tool for modern businesses. This centralized platform enables companies to plan, execute, and track projects in real-time.
More than a project management software, Primetric enables executives to measure employees' utilization and profitability across projects. It offers a wide arrange of features such as resource allocation, project accounting or time tracking.
Work Management Tools
Workfront is one place to organize your work. Whether you're designing new products, driving technology transformation, or creating global marketing campaigns, your teams have one central application platform to share ideas, create content, manage complex processes, and do their best work.

Teams use Airtable to organize their work, their way. It's an all-in-one collaboration platform that combines the flexibility of a spreadsheet interface with rich features like file attachments, kanban card stacks, forms, calendars, and reporting.

Paymo is a work management platform that bundles task management, scheduling, time tracking & billing to help deliver projects on time.

Scoro provides all the tools your team needs to fully manage your business and work: project management, work scheduling & tracking, taskboards & lists, contact database & CRM, quoting and billing, advanced reporting, real-time dashboards, and more.

Kissflow is the Workflow Software which includes complete Process Management. It's all in one intelligent and easily integrated platform where anyone can create an automated process, build a project board, handle a case flow, and collaborate on work topics.

Odoo is a suite of open-source business apps that cover all your company needs: CRM, eCommerce, accounting, inventory, the point of sale, project management, etc.
Bitrix24 offers a complete suite of social collaboration, communication and management tools for your team.
Marketing, Sales, and Project Management—together at last on a single platform. Insightly is a powerful CRM with a project and business management feature set.
31. Visme
Visme's free online presentation maker was built by designers for non-designers to help you create presentations that your audience will love without needing an eye for design. It comes with stunning presentation themes and premade templates.
Use Canva for Work for beautiful, cohesive, and easy-to-create designs. Collaborate across multiple devices and timezones.
Google Drive is a no-brainer. It's free, fast, and accessible from any Internet-enabled device. Turn on and off features, enable sharing and change access rights.
Box allows you to securely share files with your team. Documents are encrypted, and you can grant and revoke user permissions at your discretion.
Remote Team Communication and Collaboration Tools
Slack is an instant messaging remote office communication tool for teams and remote workers. It has great team management features for managing projects, assigning teams, planning launches and openings, reviewing employee contracts and sales contracts and more.

Aircall, a cloud-based phone system, helps teams maintain their agility and stay connected—even when everyone's apart.

Dropbox is one of the cloud-based file storage and sharing platforms where you can store official files, docs, images, and videos and share them with others. It is perfect for collaborating with remote teams and employees.

Skype is the most used professional chatting and instant messaging tool. Small and large businesses use this tool for effective communication with their employees – in-office and remote – via video chat, instant messaging, voice calling and more.

Workplace by Facebook gives your organization the facility to connect all the employees over the same network with familiar tools. The group's feature allows you to make teams and share specific things with specific people.

Do you have a large team spread throughout a building or a remote team working from home or another part of the world? PukkaTeam keeps you connected, recreating the office atmosphere. Helping remote workers feel like part of the office community.

Zoom is a popular remote collaboration tool. Its main use is for video conferencing and meetings. It's a perfect alternative to Google Hangouts when you need a larger number of people to attend a meeting at once.

Float is a resource scheduling and management tool being used by many companies to assign work and resources to remote teams and track the status and progress of projects.

The team collaboration tool that grows as you do, with features for tasks, collaboration, and more.

Collaborate with your remote team and move your business in the right direction using a simple, intuitive, and helpful tool.

Glip is a collaboration software app with free messaging, group video chat, and task management for better team communication.

Join.me is a free screen sharing, web conferencing, and online meeting tool for organizing quick meetings with your remote employees and teams.

Jell is a professional social networking platform for remote teams. This remote collaboration tool is not so popular, but you will find it helpful when you use it.

TeamViewer is the leading all-in-one solution for remote control and remote support. It can record video, audio, run remote scripts, take screenshots, transfer files and use a VPN for more secure links.
Connect to a computer remotely, be it from the other end of the office or halfway around the world. AnyDesk ensures secure and reliable remote desktop connections for IT professionals and on-the-go individuals alike.
The expressiveness of video with the convenience of messaging. Communicate more effectively wherever you work with Loom.
Flock's robust chat platform with instant video conferencing and advanced security controls can be tailored to fit your business.
Invite everyone you work with to chat, meet, call, and collaborate all in one place, no matter where you are. Never do that frantic, searching-for-files thing ever again. In Teams, you can access, share, and edit Word docs, PowerPoint, whitepaper design, and Excel files in real-time.
It's a single hub for neatly organized tasks, conversations, pinned messages and all the content you share. Get quick access to the entire message history and easily find people from your team.
Flowdock brings all of your conversations, work items and tools into one place. Prioritize work, solve problems, search and organize across teams, locations and timezones. Real-time team chat for your entire organization.
Troop Messenger – a comprehensive instant messaging app for businesses-small to giant. Troop Messenger is a user-friendly office chat app compact with contemporary features addressing your business needs and necessities.
Hangouts is a communication platform developed by Google which is helping many users to initiate and engage in various communication channels without any effort. Whether one-on-one implementation or group-wise, Hangouts is one of the most preferred tools out there in the world.
Frustrated and stressed from spending too much time on email? Replace your daily crush of email with real-time chat messages. What could be simpler?
Discord is the easiest way to communicate over voice, video, and text, whether you're part of a school club, a nightly gaming group, a worldwide art community, or just a handful of friends that want to hang out.
Front is the modern Workplace Communication Platform. Whether you're remote or in the office, Front enables your team to do their best work — so you can create an experience your customers will never forget.
Productivity and Reporting Tools
Evernote is a great note-taking solution for teammates working remotely. You can keep all your notes organized, and sync them automatically across all your devices.

Noisli provides background sounds that help to mask annoying noises in order to keep you sane, improve your focus and boost your productivity.

Using focus booster, you will achieve more, understand how you use your time and feel satisfied knowing you are productive.

This tool collects daily achievements and progress reports from all the team members and sends out morning newsletters with the performance reports to everyone's inboxes.

Todoist gives all the core features that include tasks, subtasks, lets you create projects, add notes and upload files, set reminders, flags and a productivity chart.

MindMeister is an online mind mapping tool that allows you to capture, develop and share ideas visually.

Music to improve focus, meditation, and sleep. Just as the visual design of an office or bedroom should enhance its function, the music you listen to should support your goals as well.

Weekdone helps you know what is going on in your team by helping you to track and report results. Track weekly progress, provide feedback, and move everyone in a unified direction.

Maximize your team's productivity and keep your projects on track with the simple and secure DeskTime time tracking app.
Time tracking tools for teams. Keep track of all your project budgets, schedule threshold alerts, use forward resource planning.
Dynalist helps you organize all your tasks and projects in one place with infinite-zoom lists.
Standuply connects your team to the experienced mentors providing knowledge insights and saves time by automating management processes.
Team Culture Tools
Trivia is the new way to connect with your remote team while playing exciting quizzes on Slack and Microsoft Teams! Get summarised results at the end of every Trivia quiz and find your very own Quizzard!
Create the best workplace experience for remote workers through Trivia's games and quizzes
Host engaging team-building events with the Go Game. They create team-building and gamification for every occasion.
EngageWith is an employee recognition and rewards platform that enriches your company culture. Employees can recognize peers, juniors, or managers by giving them Kudos or Shoutouts for a job well done.
It can also be used to celebrate and reward/gift employees on their birthdays and milestones like work anniversaries.
Want to recognise your employees' efforts and boost their morale?
Donut builds trust and forms friendships for even the most distributed teams by making it easy to launch virtual coffee or group lunches, encourage peers to meet for learning opportunities, and build important internal networks for new hires.
Assembly is a recognition and engagement platform that helps scale company culture. The more focus on acknowledging a team member's hard work, the happier and more committed they'll be to the team's goal and mission.
Let's Roam developed game-changing technology to help you connect with your employees from anywhere in the world.
Jump on Houseparty, invite your team to join you, choose a trivia category, and start testing your common knowledge. The app provides immediate right-or-wrong feedback and shares results live, so everyone can stay pumped and in the game in real-time.
Icebreakers helps teammates forge stronger connections by enabling people to learn more about each other and to share a laugh or two together.
Disco runs in your communication tools making recognition as easy as sending a message. From company to team values Tag both company and team-level values to reinforce behaviors from top to bottom.
Time Management Tools
RescueTime works in the background on your computer, phone, and tablet to show you exactly how you spend your time (no manual entry required).

Worldtimebuddy is a remote work tool with a time converter for distributed teams. Its design lets people compare multiple time zones, plan conference calls, and web meetings for business.

Toggl is a simple time tracking tool. Break down your hours by projects, clients and tasks to see what's making you money, and what's holding you back.

Accelo's automatic time capturing feature effortlessly records time spent, eliminating the need to worry about untracked time and leaked revenue.

Doodle helps you to focus on real work by making time-consuming tasks like scheduling and organizing meetings fast and easy.

Calendly is a powerful yet simple automated scheduling tool, takes the work out of connecting with others so you can accomplish more.

Want to make sure your remote team is focused on work? Hubstaff takes periodic screenshots and manages activity levels to provide accurate time reports. anyone on your team can track time from pretty much any device.
Employee scheduling and time tracking software for the modern workforce. Desktop and mobile apps give everyone the access they need. This app helps you minimize scheduling conflicts and maximize efficiency.
Clockify is the only truly free time tracking software. It's a simple time tracker and timesheet app that lets you and your team track work hours across projects. Unlimited users, free forever.
Intelligent Online Appointment Scheduling solution serving businesses of all sizes from the worlds largest retail, banking and technology organizations to thousands of small to midsize businesses
Employee tracking solution with advanced time tracking and attendance features. When you know your time use being measured and you are being held accountable, you automatically become more productive.
All-in-one productivity and time tracking tool that helps you for employee scheduling, apps and URL tracking, GPS location tracker and much more for your employee productivity.
Other Remote Tools
PivotalTracker allows businesses to work with remote clients and employees. It has a unique automatic planning feature that makes task scheduling easier and more effective.

GitHub is a programming and development tool that can also be treated as one of the productivity tools for remote workers and remote teams.

It helps you to find places to work remotely. Public spaces and paid spaces like coffee shops and cafes often boost our productivity through inspiration, social buzz, and coworking spaces.

Confluence is your team workspace where knowledge and collaboration meet to achieve great things. Create, collaborate, and organize all your work in one place.

1Password remembers all your passwords for you to help keep account information safe.

Passpack provides the tools that teams and individuals need to securely organize, collaborate and store your passwords with strong encryption and administrative controls.

Asana helps you to create, assign and manage tasks. It organizes tasks according to your projects, talks to a team member within a task to keep the conversations organized and upload or export files from Google Drive, Dropbox, computer, and other cloud places.

TimeCamp is a time tracking software for teams of any size and freelancers. It's a robust timesheet app that lets you stay on track with time and budget, and connect with other apps to streamline workflow and administrative processes.
ZoomShift is the leading employee scheduling software designed for hourly employees. It enables restaurant managers and owners to track employee time, swap shifts with ease, prevent timesheet errors and run payroll in minutes. The drag and drop schedule builder makes it extremely easy for you to create your schedules in minutes.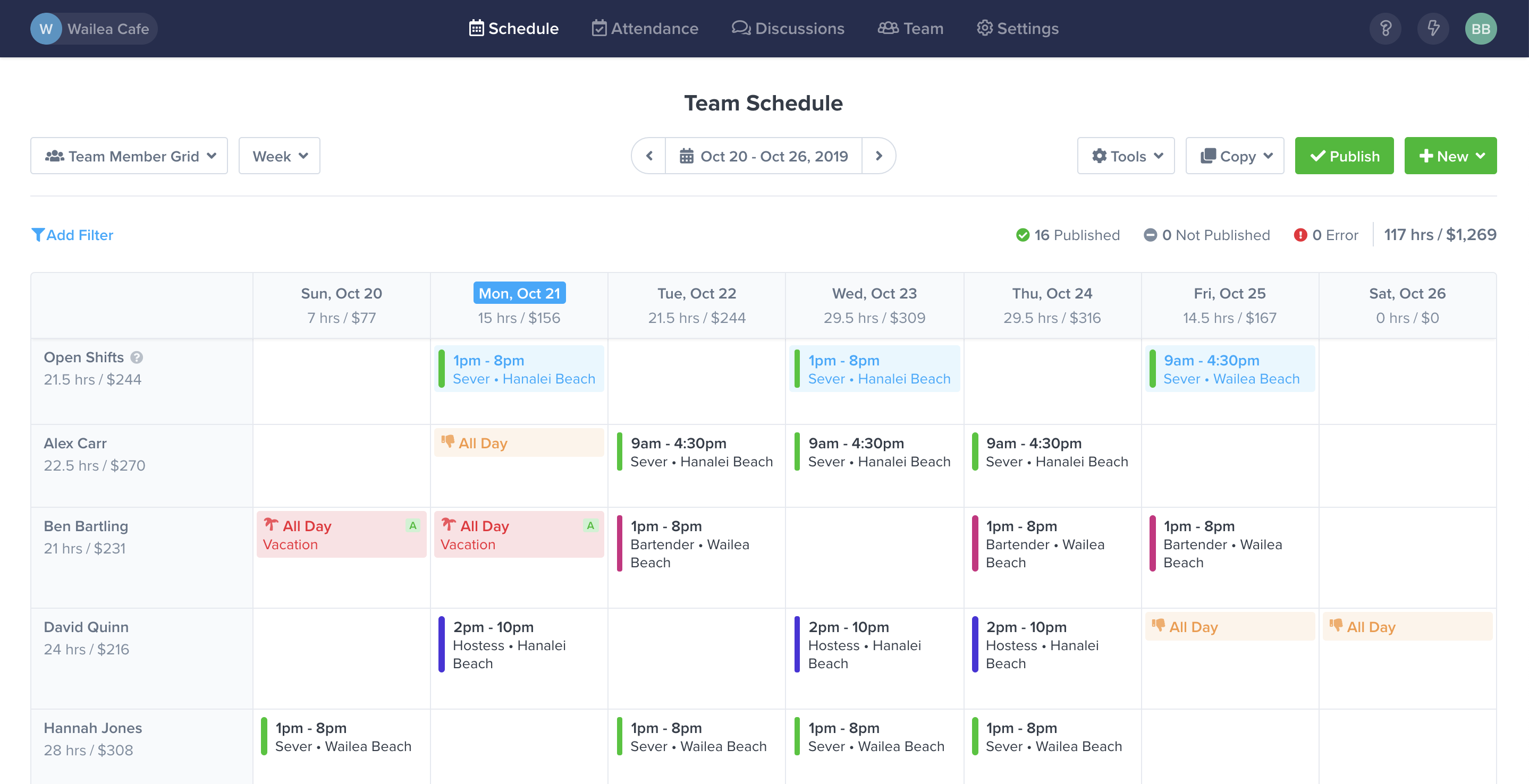 102. Fyle
Fyle is an AI-powered expense management software that lets businesses take end-to-end control over their business expenses. It enables companies to track, analyze and monitor their expense in real-time.
103. WebWork Time Tracker
WebWork is an all-in-one tool for remote teams as it has all the necessary essential features. These include a time tracker with screenshots, productivity monitoring, task management, team chat, leave management and many more for organized and easy remote working. Moreover, it'll also include a Payroll system so that users can easily pay and be paid right in WebWork.
Remote Work FAQs
How fast is remote work growing?
Remote work is changing how global companies operate. In a trend that is showing no signs of slowing down, remote work is rapidly on the increase all around the globe. Check out this Forbes article to understand new remote work trends and why remote work is the new normal.
What's your best list of remote work tools?
Remote working has many benefits, but employers will have to explore the best practices for remote team management. Let's have a look at our best remote team tools (that we have mentioned above) that will help you in managing remote teams, keeping them productive and motivated.
Originally published March 23, 2020 1:02 PM, updated July 18 2022