Do you use Slack? Want to get industry news, trends, and breaking news directly into Slack channels?
Here in this article, you'll find 15 Slack apps and bots that can help you!
1. Pocket
Pocket for Slack helps you capture and save all of the interesting articles, links, and videos your teammates share in Slack throughout the day—right to Pocket. Quickly discover new stories you'll love with personalized recommendations hand-picked by Pocket and the people you follow.
2. Remote Work Tips
Remote Work Tips is a curated collection of the best remote work articles, lessons, tools, tips, best practices and other resources. It helps you optimize productivity and efficiency in the new era of Remote Work.
3. Nuzzel
Receive customized daily news briefings on any topic in any Slack channel. Nuzzel can help you be the first to know your industry's trending news, get customizable industry insights, give your team an edge, and help your team easily share the latest industry updates.
4. Linkboard
See news about your clients, competitors and industry from all platforms in Slack. Linkboard lets you save and optimize frequent searches into folders for quick access to your news. Move quickly through your filtered news and save only the news you need.
5. Dataminr
The Dataminr Slack integration delivers customized breaking news alerts into a dedicated Slack channel, allowing journalists and media professionals to collaborate seamlessly across the newsroom.
6. Radio Buddy
Listen to your favorite radio stations on The Radio Hub and ask what music they are playing right now, simply by asking the Radio Buddy for help.
7. StandupIy-News
Get Top 5 news from ProductHunt, HackerNews & TechCrunch in your Slack on schedule or by request. Use /request command to get top news in Slack.
8. Newslit
Receive customized daily news briefings on any topic in any Slack channel. Newslit continuously tracks the most comprehensive set of important news sources, and integrates social signals from thousands of top business influencers.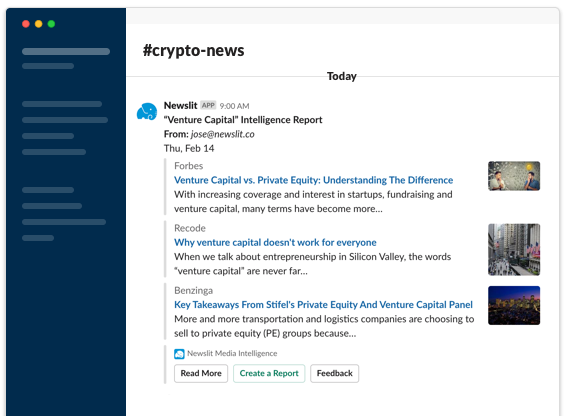 9. Curated
Curated is the simplest tool for building and sending email newsletters. With Curated for Slack action, you can collect links for your newsletter from Slack messages. You can save links from Slack messages directly to your Collected Items in your Curated account.
10. Syften
Syften constantly monitors social news sites and notifies you as soon as one of your keywords is mentioned. Small and mid-sized companies use it to grow their online presence, either with content marketing or great user support.
11. Qualiabot
Qualiabot is the digital assistant to analyze millions of information sources around the world such as news, blogs and social media, and notify you when it identifies an event of special importance that concerns your topics of interest.
12. Hubspot Blogs
Hubspot Slack integration sends you weekly post selections from the HubSpot Marketing and Sales Blogs, hand-picked by our editors. It also lets you search our archives for articles and resources on specific topics.
13. Incites
Connect Incites to Slack and receive instant notifications in your chosen Slack #channel for AI-powered deep insights from Incites. Collaborate with the right people and discuss with them what Incites brought to the table.
15. Stalker 
Stalker is a tool for following accounts across social media platforms. Once installed you may add accounts from our supported platforms on a per channel basis and stay up to date with their latest postings.
Check out Springworks' amazing tools and apps here.
Want to bring your teams together? Trivia is the new way to connect with your remote team while playing exciting quizzes on Slack and Microsoft Teams. Get your Free Trial Now!